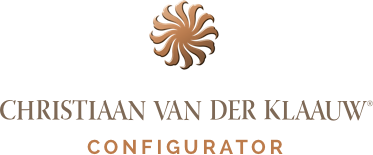 General Terms & Conditions
These General Terms and Conditions (hereafter: T&C) apply to any sales of Christiaan van der Klaauw b.v. (hereafter: CVDK) products or services through the website www.configurator.klaauw.com (hereafter: the Configurator). CVDK has its registered offices at Christiaan van der Klaauw B.V., Kooltjesbuurt 1A-15, 1411 RZ Naarden in the Netherlands. CVDK is registered with the Chamber of Commerce under company number 55661483. The VAT number is NL8518.07.252.B02. The IBAN number is NL11 RABO 0146 5754 90, BIC: RABONL2U. By placing an order through the Configurator, you agree to these T&C. Please note that before placing an order for products or services through the Configurator, you will be asked to agree to these T&C. If you do not agree to these T&C, you will not be able to order any products or services through the Configurator. Sales concluded through physical points of sale (such as authorized retailers) are not subject to these T&C.
CVDK make changes from time to time to the T&C. The changes will be incorporated in the T&C and be made available through the Configurator. The latest version will take effect immediately upon the date it is made available and will apply to any orders of products or services made through the Configurator as from that date. Any changes to the T&C made after you have placed an order will not affect that order unless required by applicable law.
Orders through the Configurator can only be placed by private individuals (non legal entities) who have the legal capacity to enter into contracts and use a shipping address in a country acceptable to CVDK. By placing an order through the Configurator, the buyer represents and warrants he/she is a bona fide end-user customer purchasing for his/her own or another's personal use and will not deliver, sell or otherwise distribute our products or services for commercial purposes.
All orders placed through the Configurator are subject to availability and acceptance of such orders by CVDK. Quantity limits may apply in relation to orders for certain products. CVDK is entitled to refuse at any moment in time, without prior notice, orders exceeding a certain number of products.
To place an order, you have to fill in the order details. CVDK will store the required data to record your order which data shall not be shared with any third parties other than CVDK affiliated parties in so far as these data are relevant for the order or the services connected to the order.
The order process of the Configurator will include the following:

Add to Shopping Basket: Once you have chosen a product, you may place this product in your shopping basket.
To finalize the order process, you add your order details and personal information (including email, shipping address, billing address and payment information). Buyer is responsible for verifying the data are correct.
CVDK reserves the right, to its sole discretion, to refuse, cancel and terminate orders at any time on reasonable grounds, including but not limited to a dispute concerning payment of a prior order, suspicion of fraud or violation of these T&C.

All prices shown on the Configurator are in Euros and include the applicable VAT. CVDK reserves the right to modify prices at any time without prior notice.
CVDK will take reasonable care that the prices of products are stated correctly on the Configurator and all subsequent communication with you. However, CVDK cannot discount the possibility that, despite our reasonable efforts, products may be incorrectly priced. If any of the products you place are incorrectly priced, CVDK will contact you as soon as possible to inform you of this error. If we are unable to contact you using the contact details you have provided during the order process, we will cancel the order and notify you in writing. If CVDK mistakenly accepted and processed your order in which case a pricing error occurred, CVDK is entitled to cancel the sale and delivery of the product and refund you any sum you have paid.
In the event that changes to applicable law between the date your order is placed and the date you are sent a written confirmation result in an increase to the taxes associated with your order, CVDK will contact you and ask that you reconfirm your order.
CVDK accepts methods of payment stated on the Configurator. The method of payment may lead CVDK to require additional information including but not limited to specific forms of identification. When ordering on the Configurator you will need to enter your payment details on the appropriate form. Payments by debit/credit card are subject to validation check and authorization by the card issuer. If the issuer of your payment card refuses to authorize payment to CVDK, you will need to contact your card issuer directly to solve this problem. Other payment methods may also be subject to validation checks and authorization by the payment system providers. You expressly authorize CVDK to perform security checks, where deemed necessary, to transmit or to obtain information about you, to or from third parties from time to time, including but not limited to your payment card details, to authenticate your identity, to validate your payment card, to obtain an initial payment card authorization and to authorize individual purchase transactions. As soon as the 30% down payment is secure you will be sent a confirmation of the order.
CVDK may accept bank wire transfer for orders at its sole discretion. The order will not be processed until the payment has been received. Pre-payment shall not impact any of your legal rights under these T&C.
Once your order has been placed through the Configurator, you will receive a written order acknowledgement (by email) confirming the details of your order together with an order reference number. The order reference number will serve as a reference for any future enquiries regarding your order. This order acknowledgement is not an acceptance of your order. Upon receipt of the order acknowledgement, it is your responsibility to review that it accurately reflects your intended order. If the order acknowledgement does not reflect your intended order, you should contact CVDK immediately using the contact details available on the Configurator.
CVDK only accepts orders for delivery to the country or countries that are identified during the order process.
Please note that shipment of the product is always subject to receiving your full payment of your order unless agreed otherwise in writing. Upon shipment of your order, CVDK will send you a Confirmation of Order and Shipment in writing (by email) which constitutes CVDK's acceptance of your order and indicates the existence of a binding sales contract.
CVDK will take all reasonable efforts to ensure delivery by the carrier within the estimated delivery lead time from the date of our written Confirmation of Order and Shipment. If delivery of products is delayed by an event beyond CVDK's control, CVDK will inform you as soon as possible and take all reasonable measures to minimize the delay.
CVDK reserves the right to deliver the products only to the person who is the intended recipient of the order as stated on the label of the parcel and to request ID check for verification purposes at the time of delivery. Upon delivery, CVDK requires and you will provide to CVDK with a written (handwritten or by electronic signature) confirmation of delivery, from you or any person authorized by you, in writing, and acceptable by CVDK, to accept delivery on your behalf. The product will only be delivered to you if such a confirmation of delivery is provided. Upon delivery of the product, risk and responsibility for your purchased goods passes to you.
When ordering products or services through the Configurator, you will receive an invoice that will be sent to you in writing (to your email address as a PDF attachment or otherwise).
Under Dutch law, the so-called right of withdrawal during a period of 14 days does not apply to 'made to order' timepieces. As a courtesy of CVDK, we will apply a period of reflection of 14 days after the order is placed (the order date). Please contact CVDK using the contact details provided on the Configurator. As you are ordering a 'made to order' unique personalized product, please note products which have been personalized in any way, cannot be cancelled or returned to us for exchange or refund.
CVDK is committed to ensure every product meets the strict quality criteria. All products are covered by the Christiaan van der Klaauw Astronomical Watch warranty as described on the Configurator. If you wish to repair or service a product, please contact CVDK using the contact details mentioned on the Configurator. Any legal rights of consumers under the laws governing the order and purchase contract are not affected by these T&C or the Christiaan van der Klaauw Astronomical Watch warranty.
For any repair inquiries, please contact CVDK using the contact details on the Configurator.
CVDK strives to ensure the information, including product descriptions, dimensions, and colours, provided on the Configurator and in advertisements or catalogs is correct. However, we cannot make any guarantees, whether express or implied, in relation to the accuracy, reliability and completeness of such information. All images in the Configurator are artist impressions and certain details may differ slightly from the delivered product.
To the fullest extent permitted by applicable law, we disclaim and exclude all other terms, conditions and warranties in relation to the products whether express or implied by statute or arising from any previous course of dealing or usage or trade practice. Nothing in these T&C excludes CVDK's liability for any liability, which cannot be limited or excluded according to applicable law.
Our aggregate liability to you under these T&C for any order shall in no event exceed one hundred percent (100%) of the price of the product(s) in your order.
If any provision (in whole or in part) of these T&C is found to be illegal, invalid or unenforceable, that provision or part-provision shall be deemed not to form part of these T&C, and the legality, validity or enforceability of the remainder of the provisions of these T&C shall not be affected.
These T&C constitute an agreement between you and CVDK in relation to the order of products or services, and replace and extinguish all prior agreements, draft agreements, arrangements, undertakings, or collateral contracts of any nature made by the parties, whether oral or written, in relation to such subject matter. The contract is between you and CVDK and no other person shall have any rights to enforce any of its terms.
CVDK cannot accept responsibility for any failure or delay in performing or complying with our obligations under these T&C which arises from any cause beyond its reasonable control.
Any waiver by CVDK of a breach of any provision of these T&C cannot be interpreted as a waiver of any other or subsequent breach.
These T&C shall be governed by the laws of The Netherlands. Any dispute, controversy or claim arising out of or in relation to the T&C shall be brought to the courts of Leeuwarden, The Netherlands. CVDK may also bring proceedings against you in the courts of the country where you are domiciled. Without any restriction to bring proceedings before a court, you and CVDK will first make reasonable efforts for a period of thirty (30) days to resolve amicably any dispute or failure to agree that may arise out of or relate to the product, service or T&C.